Do you teach with a farm theme and want fun activities for preschoolers? These awesome farm animal centers are great for making up stories and learning by doing. Math, reading, science, blocks, and STEM activities with a farm theme centers that preschool, pre-k, and kindergarten students will LOVE (and the farm animal number puzzle is a FREE printable for your kids to enjoy!)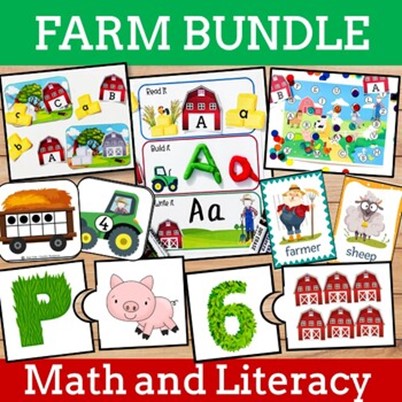 Farm is a great theme for kids (and teachers) because there are so many different things to talk about. Kids love to add things like tractors, planting vegetables and fruits, farm animals, the life cycles of both animals and plants, and so on. There are so many fun farm-related activities that I split them into three posts: Farm Math, Literacy, and STEM (this one), Farm Art, Sensory, and Fine Motor, and Farm Dramatic Play. Here is the link to my TPT shop, where you can see all of my Farm items.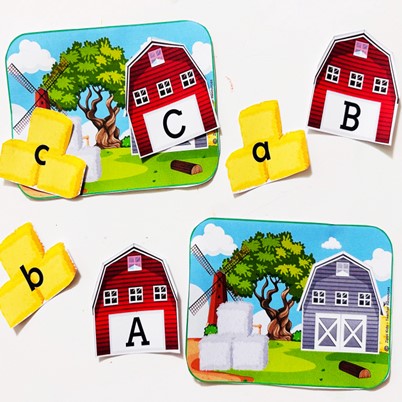 Farm Letter Match, Beginning Sound, Vocabulary, Number Match, Ten Frame counting, Find and Cover it and Puzzle has Farm Activities that are super fun, hands on activities to help students with Literacy and math concepts! Farm themed task cards 100 cards can be used to promote Number and Letter awareness along with fine motor skills. Farm themed cards can be a great add on to your Literacy and Math centers and can be printed an laminated for use year on year.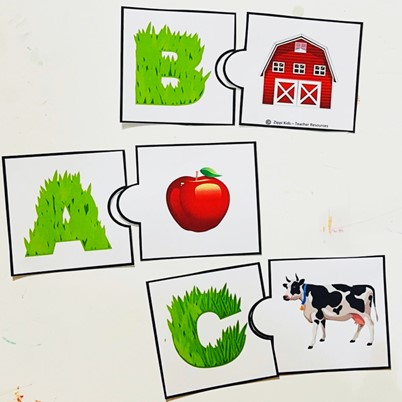 Check it out here
Resource included are:-
Beginning Sound Puzzle Cards

Vocabulary Cards(16 Farm words)

Find it and Cover it mat (Upper case)

Find it and Cover it mat (Lower case)

Find it and Cover it mat (Numbers 1-20)

Read, Write and Build it mat

Number Match Puzzle Cards

Number Match Ten Frame Cards

1 FREE PRINTABLE Farm number picture puzzle
These centers can be used as arrival/table time activities, center activities, small group instruction, and circle. These activities are designed for preschool, pre-k, or kindergarten.
Farm Preschool Literacy Activities
We are constantly working on literacy in preschool. These activities combine the fun of the farm with letters as we play with sheep, tractors, barns, and more. This set has a variety of farm-themed activities and center for kids in preschool. They go from planting a garden to pigs in the mud, and all you need to complete the fun is a few manipulatives.
The pages were made to be very fun and interesting for your kids while they worked on their early math skills. We also wanted to make sure that Farm Theme Preschool Activities Binder is perfect for you.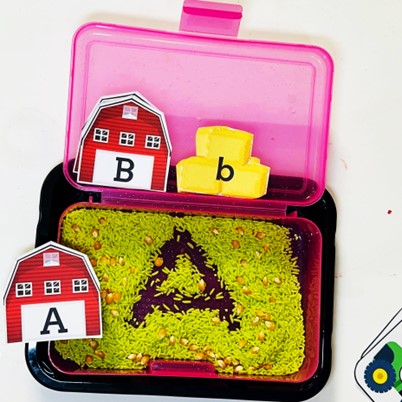 You'll find it to be:
Super easy to make, since you don't have to cut or laminate anything. You just need to print the pages and slide them into sheet protectors.
Low Mess and Easy to Store: The entire binder takes up about 1 1/2 inches of space on your shelf. This is for you if you like things to be simple and well-organized.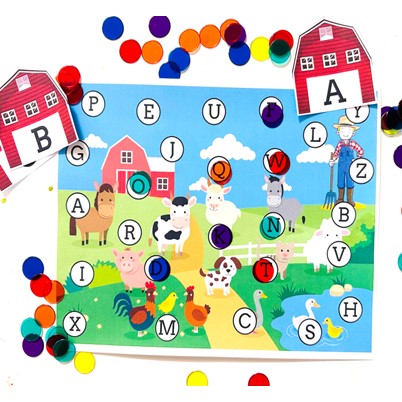 Check it out here
Fast and Easy to Use: Give your kids some playdough, pattern blocks, or cereal, and they are ready to use this binder to play their way to early math mastery.
Versatile: This Interactive Binder has a variety of activities that can be used with students of different skill levels.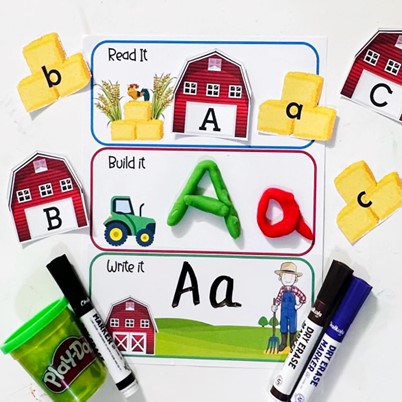 Farm Preschool Math Activities
We are always working on math in preschool. These activities combine the fun of the farm with numbers as we play with sheep, tractors, barns, and more. This set has a variety of farm-themed activities and center for kids in preschool.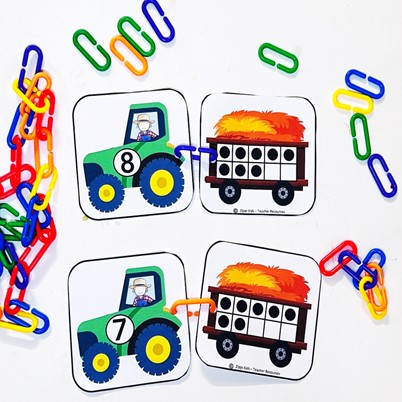 Teaching preschoolers about farms can have a range of benefits, including:
- Developing an understanding of where food comes from: Farms are where much of our food comes from, so learning about farms helps children to develop an appreciation for the process of growing and harvesting food.

- Encouraging healthy eating habits: As children learn about the different types of fruits, vegetables, and other foods that are grown on farms, they may become more interested in trying these foods and developing healthy eating habits.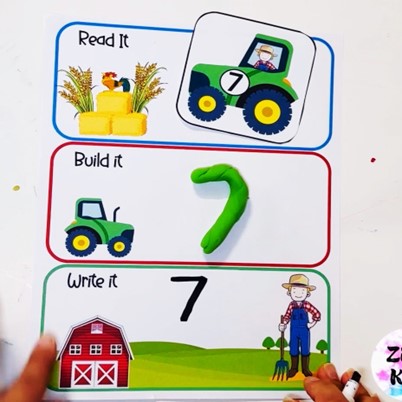 - Fostering an appreciation for nature and the environment: Farms are typically located in rural areas, which can provide an opportunity for children to learn about different types of plants and animals, and to develop a sense of connection to the natural world.

- Developing problem-solving skills: Farming requires a lot of problem-solving skills, such as how to plant crops, care for animals, and maintain equipment. Learning about farming can help preschoolers develop these skills.

- Promoting social and emotional development: Working on a farm often requires teamwork and cooperation, which can help children to develop social skills and learn how to work together.

Overall, teaching preschoolers about farms can be a fun and engaging way to introduce them to a variety of important concepts and skills, while also fostering a sense of curiosity and wonder about the world around them.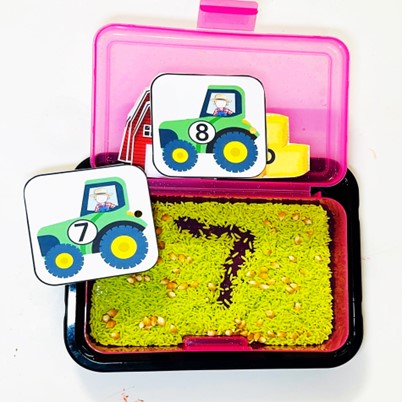 FREE PRINTABLE FARM NUMBER SEQUENCING PUZZLES
These FREE PRINTABLE number order puzzles with a farm theme are fun for kids in preschool, pre-k, and even kindergarten. To help your child learn their numbers, you can print out free number sequence puzzle with the numbers and 1-10 that have a farm theme.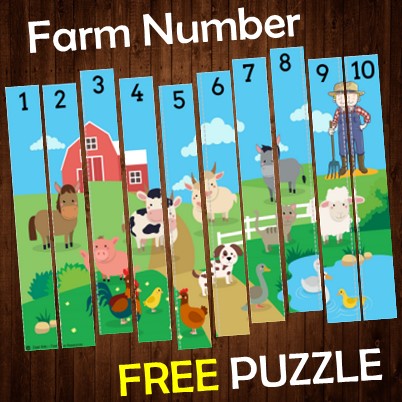 This FREE PRINTABLE Farm puzzle is fun and easy to put together. Your child counts as he or she builds the picture. Kids can also practice using scissors by cutting the puzzle into strips on their own. Kindergartners can work on these puzzles on their own, but preschoolers and kids in pre-k may need help.
Preschoolers can have fun and learn new things with a farm theme. Here are some more ways you can teach your preschoolers about farms:
Find books about animals, crops, and how people live on farms. The books "Big Red Barn" by Margaret Wise Brown, "The Very Busy Spider" by Eric Carle, and "The Cow Who Clucked" by Denise Fleming are all great choices. After reading the story, talk about the different animals and crops that can be found on a farm.
Put things like hay, toy animals, and toy tractors in a large bin to make a sensory bin. This will make the kids feel something. Tell them to play and try out all the different materials and textures.
Give kids things like construction paper, glue, and googly eyes so they can make their own farm animal crafts. They could use paper plates to make pigs, cotton balls to make sheep, and egg cartons to make chicks.
Go to a farm close by. If you can, take the kids on a field trip to a nearby farm so they can see farm animals and crops in person. They can find out where food comes from and see how hard it is to run a farm.
Play games that are about farms. For instance, "Pin the tail on the donkey" could be played with a cow or pig instead of a donkey. You could also make a memory game with farm animals or a scavenger hunt where the kids have to find things like eggs, corn, or a tractor.
These are just a few ideas to get your farm-themed preschool programme off the ground. Have fun and come up with new plans!